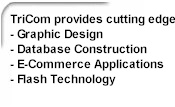 Your complete Web Development and
Hosting Provider.
TriCom Technologies is able to offer your company custom development and hosting solutions that exceed your business requirements.

The TriCom concept expands the abilities of your office by providing the technical services and customer support that will help your business flourish. Our staff is available to you 24 hours a day, 7 days a week. With hundreds of satisfied clients, TriCom is the only Web team that your company will ever need.